The CREW Greater Philadelphia Mentorship Program aims to support our members in enriching their professional and personal growth by facilitating relationships that result in leadership development and meaningful connections. Building skills in commercial real estate for future goals and milestones while providing one another with guidance, advice, and feedback is paramount to building a successful program. The connections between individuals in different phases of their careers emphasize and enforce the importance of being a lifelong learner and encourage the sharing of knowledge between both mentor and mentee.
2023 Mentorship Program Applications Open Now:
CLICK HERE TO APPLY ONLINE BY MARCH 24, 2023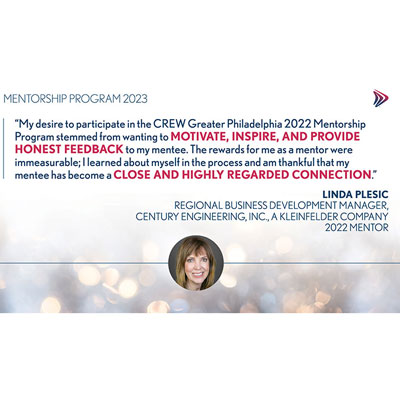 FREQUENTLY ASKED QUESTIONS
What is the cost associated with the CREW GP Mentoring Program?
There is currently no cost associated with our Mentoring Program. This is one of the many benefits that come with your CREW GP membership.
How long is the CREW GP Mentoring Program?
The CREW GP Mentoring Program is intended to last for a 6-month period of time. With the kickoff event to be held on May 3, 2023 at a breakfast meeting and the closing event to take place December 2023 at the Annual CREW GP Holiday Party.
How do I apply to be a Mentor or Mentee?
Visit the CREW GP website, click on About/Mentorship Program and the link to the applications will be there for you to complete.
What benefits do I get from being a Mentee?
A good mentor can help a mentee become more efficient at work, learn new skills, develop greater confidence, and make more logical decisions. It will also give them an opportunity to expand their knowledge, gain valuable advice from a more experienced person, learn to ask good questions, learn from others experiences, be advocated for, increase your chance of promotion and build your professional networks.
What benefits do I get from being a Mentor?
Mentors receive many benefits from a mentoring relationship, offering the mentor a distinct opportunity to enhance their people development and leadership skills while being a positive influence in the development of another professional. In addition, there are the benefits of increased self-confidence, increased self-awareness, strong communication skills, becoming a good listener, growing a personal network & paying it forward. Mentors may also gain knowledge and skills from their mentees, who may have new information or technology that they can share with their mentors.
How are Mentoring matches made?
After all Mentor/Mentee applications are submitted they will be reviewed by the program coordinators for pairing. We try to match applicants based upon their stated goals, backgrounds, locations.
As a Mentor, how many hours am I expected to spend communicating with my Mentee during the six-month partnership?
We ask that Mentors and Mentees maintain a minimum of 1 hour per month that they communicate. You are free to communicate as often as is comfortable for both parties and encouraged to do so. There are multiple suggestions in the Mentorship Guide that you are free to utilize to assist you in efforts to communicate with one another.
How will I communicate with my partner? Will we need to meet face-to-face?
Communication may be in person, via phone, e-mail, video chat, text or instant message, or other form of communication. The method of communication will be determined by the partners involved, and communications are at the expense of the participants. Examples of communication methods that partners can utilize include: Zoom, Google Meet-Ups, Microsoft Teams, GoToMeeting, SMS text messaging, WhatsApp.
Will the personal and professional information I share throughout the mentoring process be kept confidential?
Yes. All program applicants are required to sign a confidentiality statement at the time they apply.
Where can I find the documents and information, I need during my Mentoring Program partnership?
Basic information, including applications to the program can be found on this page. The Mentorship Program Guide will be sent to each Mentor/Mentee prior to the program start date. The guide contains best practices, guidelines and suggestions for structuring your personal mentorship experience as well as links to multiple articles and books on the Mentor/Mentee relationship.
What happens if my mentoring relationship isn't working out?
CREW GP will make every effort to match mentors & mentees who will benefit from their mutual experiences and expertise, but sometimes these relationships may not work out as you envision them. During the relationship, it is important that both mentor and mentee communicate openly and honestly to give each other feedback. If things are not going well, the partners should discuss the issues and try to find a resolution. However, if this is not possible, the relationship can be terminated and new relationships can be sought.